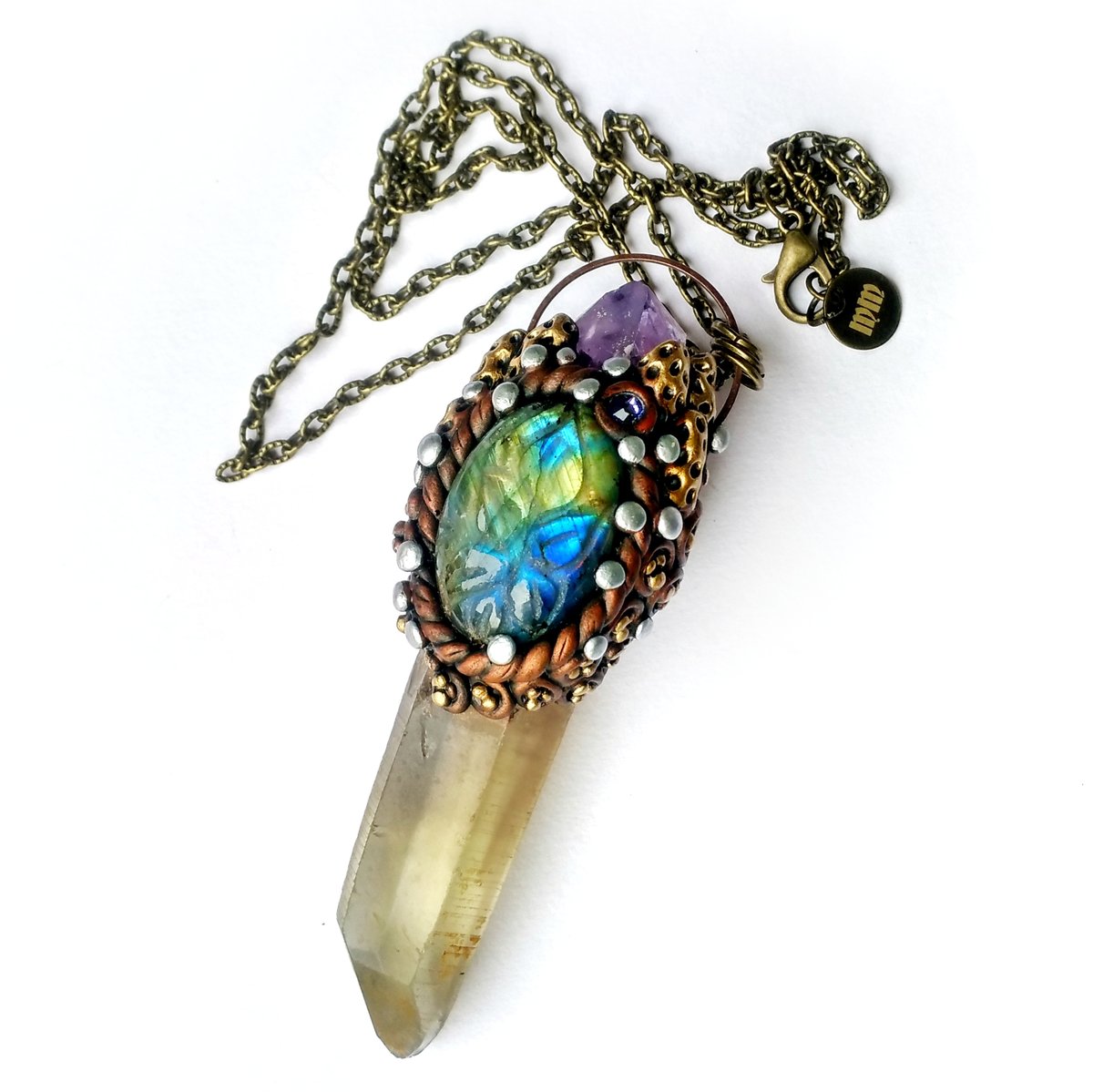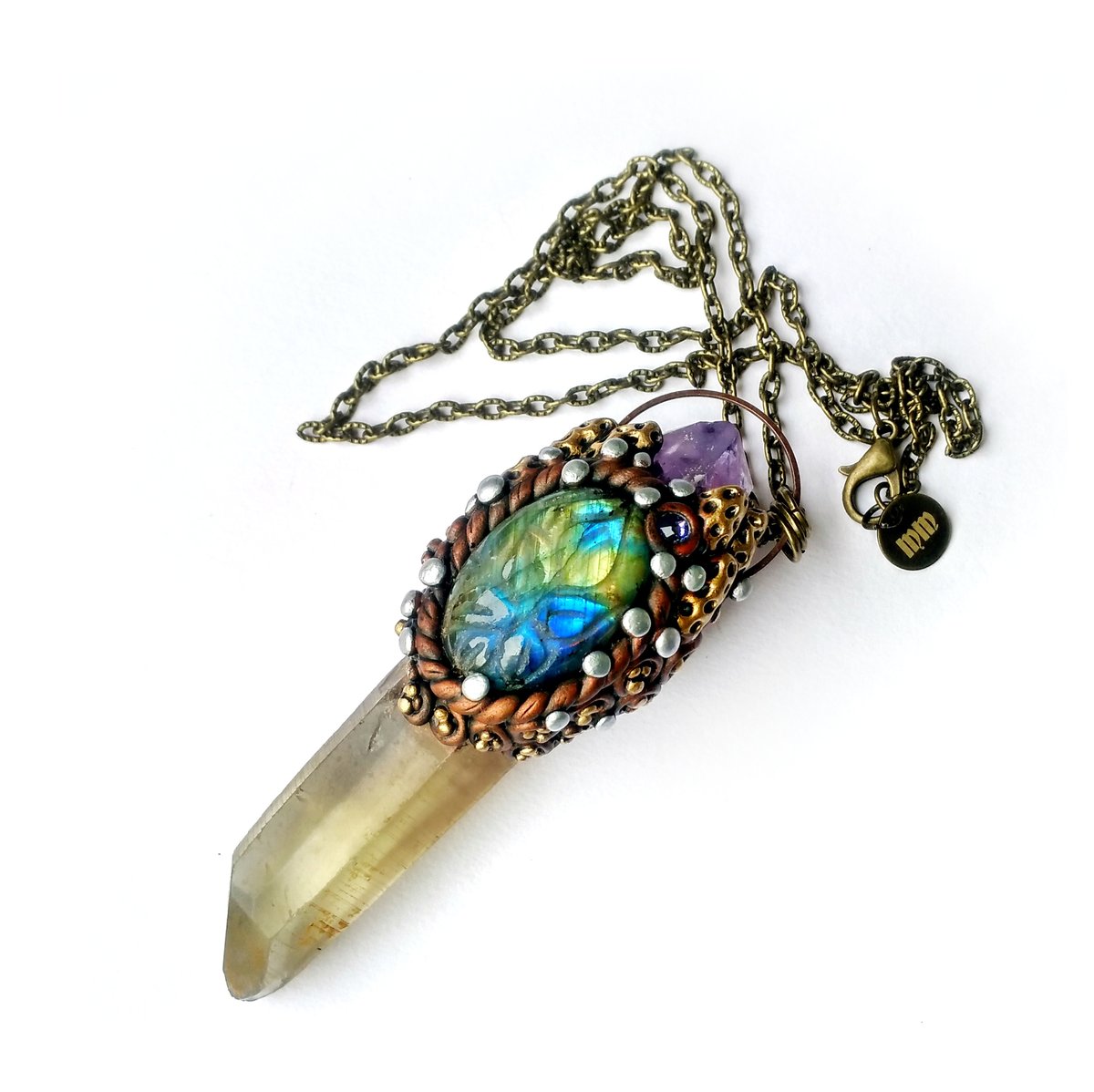 Makenna
$145.00 USD
Makenna is stunning, a gorgeous fungus totem to assist you on your sacred journey.
Makenna's design features morel mushrooms, and different kinds of fungus, including birds nest fungus.
She incorporates genuine sterling silver and 18 k gold enamel, moody garnet, as well as stunning raw amethyst, hand carved labradorite, and raw citrine.
Amethyst is a meditative and calming stone which works in the emotional, spiritual, and physical planes to promote calm, balance, and peace. It is also used to eliminate impatience and to help keep "the head above water," assisting those struggling with sobriety or addiction.
Labradorite is useful for increasing the connections between the physical and ethereal, in keeping with labradorite meaning in folklore. Spiritual growth is enhanced and strengthened by the use of labradorite, and is suitable for all zodiacs.
The citrine crystal is a great choice for healing and for manifestation; perfect for a person looking to carry their very own "good luck" charm around with them.
This stunning, larger sized amulet measures about 3" long, and comes on an 18" chain, complete with Mushroom Maven insignia charm.
Let this stunning piece help.you vibrate at your optimal frequency.
This piece is unique, lovingly handcrafted, and one-of-a-kind. No molds were used. Mushroom Maven amulets are made to be high-quality and strong, providing many years of love and enjoyment, however there are fragile elements such as glass, stone, and crystal. Special care must be taken to ensure the natural elements can be enjoyed for a lifetime—treat with gentleness and respect; keep away from excess cold or heat; and store out of direct sunlight. Colors are as shown but may appear slightly different on screen. Water resistant, however, please do not submerge.
Amulets are packed and mailed within 3—5 business days of payment clearing, unless you have paid for the expedited shipping option. If you have not selected the expedited shipping option, your items will be shipped with standard shipping which can be tracked at our discretion only after 28 business days. Once it leaves our hands, we can't be held responsible for a lost item, however you may contact us and we can work together towards a solution. Please keep in mind that our items are shipped out of Ontario, Canada. Standard shipping generally takes 10—30 business days, but clearing customs can sometimes take more time.
---
All amulets come with free standard shipping which usually takes between 10—30 business days, but you have the option to add expedited shipping, which entitles you to next business day sending, as well as a tracking number that is available to you right away which will be forwarded to your email. Expedited shipping usually takes 5—10 business days. And the best part? We cover half the cost!
If an item arrives damaged, please send us a photo of the damage, and we will take it from there. Please note: this is a high-end jewelry item, not a toy; it is not intended for children under 12. Information about our crystals is for spiritual and informational purposes only—it should not be mistaken for medical advice or treatment.