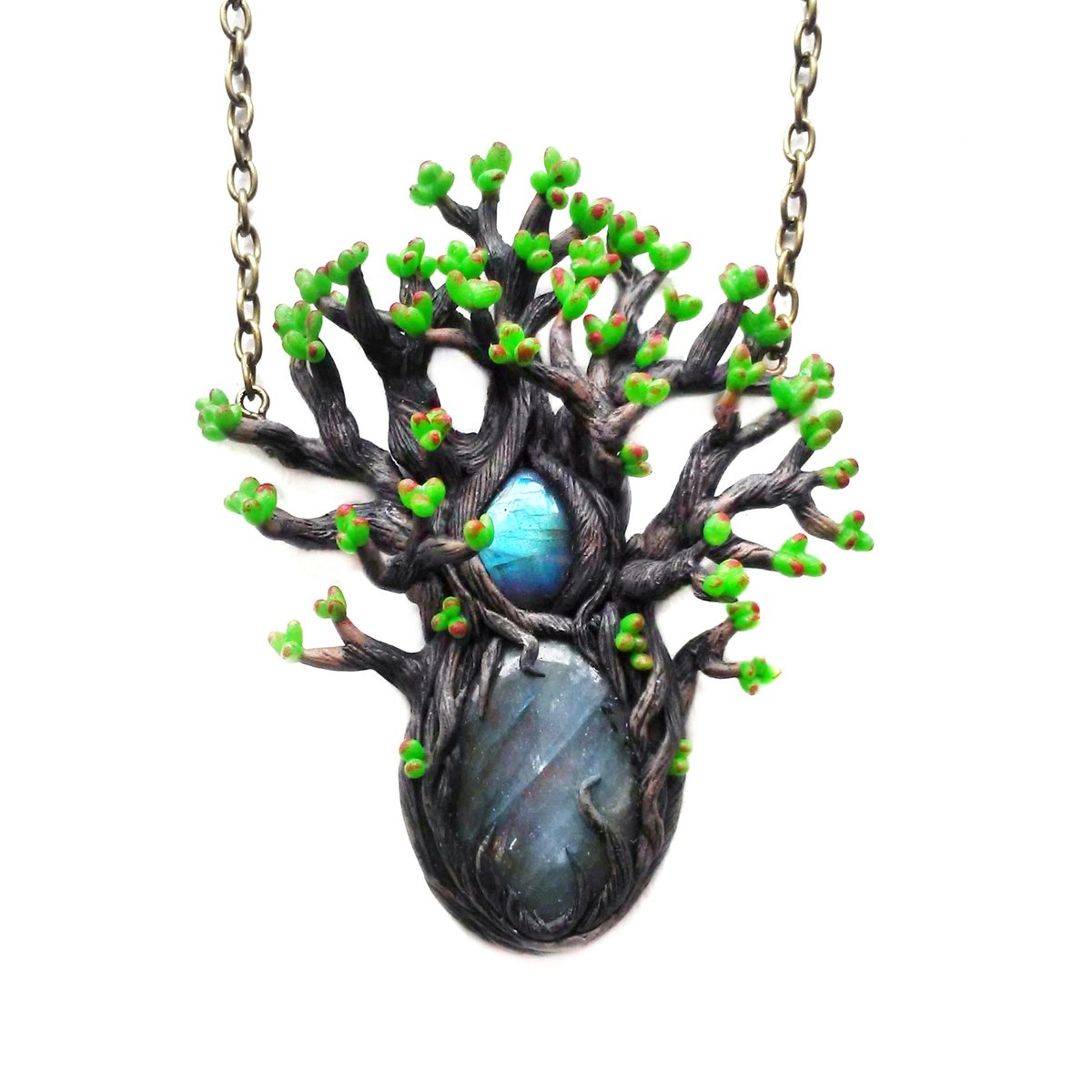 Han'ei
$185.00 USD
Han'ei is a beautiful bonsai jade succulent part of the Sacred Bonsai™ collection. The heart of this amulet are two stunning labradorite stones of different colors.
Han'ei means 'Prosperity' in the beautiful Japanese language.
The tips of the jade's leaves turn red when she is exposed to too much light. Even the jade knows the important balance of light and dark. It takes both sun and rain to create a rainbow. As long as we can care for ourselves, those we love, and understand that the risk of darkness is worth every ounce of light, we are truly prosperous.
In many parts of Asia, the jade plant represents growth, renewal, financial success. This beautiful little succulent plant is resilient, and the perfect wish of good luck bestowed upon a friend.
This beautiful piece has two stunning labradorite stones, which are useful for increasing the connections between the physical and ethereal, in keeping with labradorite meaning in folklore. Spiritual growth is enhanced and strengthened by the use of labradorite, and is suitable for all zodiacs.
This stunning amulet is durable, comes to you worn just below the collar bones. Let this beautiful piece enchant you and help you vibrate at your optimal frequency.
This piece is unique, lovingly handcrafted, and one-of-a-kind. No molds were used. Mushroom Maven amulets are made to be high-quality and strong, providing many years of love and enjoyment, however there are fragile elements such as glass, stone, and crystal. Special care must be taken to ensure the natural elements can be enjoyed for a lifetime—treat with gentleness and respect; keep away from excess cold or heat; and store out of direct sunlight. Colors are as shown but may appear slightly different on screen. Water resistant, however, please do not submerge.
Amulets are packed and mailed within 3—5 business days of payment clearing, unless you have paid for the expedited shipping option. If you have not selected the expedited shipping option, your items will be shipped with standard shipping which can be tracked at our discretion only after 28 business days. Once it leaves our hands, we can't be held responsible for a lost item, however you may contact us and we can work together towards a solution. Please keep in mind that our items are shipped out of Ontario, Canada. Standard shipping generally takes 10—30 business days, but clearing customs can sometimes take more time.
---
All amulets come with free standard shipping which usually takes between 10—30 business days, but you have the option to add expedited shipping, which entitles you to next business day sending, as well as a tracking number that is available to you right away which will be forwarded to your email. Expedited shipping usually takes 5—10 business days. And the best part? We cover half the cost!
If an item arrives damaged, please send us a photo of the damage, and we will take it from there. Please note: this is a high-end jewelry item, not a toy; it is not intended for children under 12. Information about our crystals is for spiritual and informational purposes only—it should not be mistaken for medical advice or treatment.